Travel to the Czech Republic
This landlocked Central European country has a fascinating medieval history, evident in the hundreds of castles and chateaux found on its land. Taste world-class beer and immerse yourself in the folklore tradition that makes the Czech Republic, also known as Czechia, so charming.
Key facts
Currency:Czech Koruna (CZK)
Population:10.7 million
National dish:Roast Pork Dumplings & Cabbage
Bottle of beer:35 CZK
Offical language:Czech
Hello:Ahoj
Capital city:Prague
Minimum wage:80 CZK/hour
Annual temperatures:-3°C - 24°C
---
Our trips to Czech Republic
---
Culture
Family is the number one priority in most of the Czech Republic's social structures. Czechs are prized for being practical and logical thinkers. They're very strategic and enjoy keeping their personal life private.
---
Best time to visit
The best time to visit the Czech Republic is in the seasons of autumn and spring. March - May (spring) are prime months to tour the country, as you'll find everything in bloom and the days are long and filled with sunshine. Autumn (September - October) is also a fantastic season to head to Czechia, with many of the well-known festivals falling during this time. Enjoy wandering through streets colourfully scattered with autumnal leaves and taking a dip in the thermal spas.
---
Best places to visit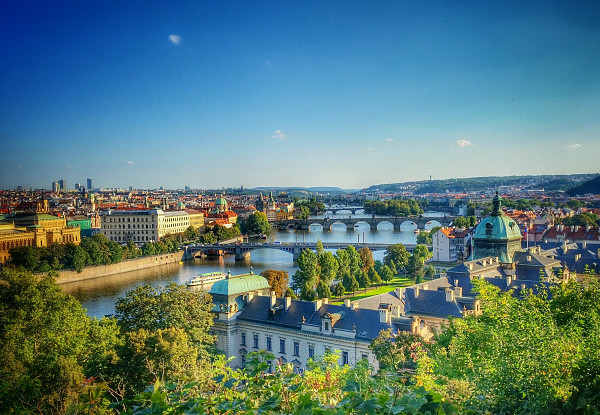 Prague
Deemed as one of the most stunning cities in Europe, the capital city of Czechia is worth the visit. Walk down intricate cobbled laneways and end up at the Old Town Square or stumble across stunning cathedrals, gardens, courtyards, cafes, restaurants and bars.
There's a reason this place got its name, boasting dense pine forests, ultimate village-living and a sense of artistic inspiration and euphoria. One of Bohemian Paradise's most prized possessions is its area of rock formations - sandstone forced into unique shapes by nature to form the Prachov Rocks.