Travel to Ireland
Ireland is a country like no other. A proud and fascinating history has led to an incredible culture that is now known around the world. Add this to it's dramatically beautiful, perpetually green landscapes and the fact that a Guinness is never too far away, then you've got yourself the destination of a lifetime.
Key facts
Currency: The Euro (EUR)
Population: 4.9 million
National dish: Irish stew
Bottle of beer: 4 EUR
Offical language: Irish, English
Hello:

What's the craic?

Capital city: Dublin
Minimum wage: 10.20 EUR/hour
Annual temperatures: 4°C - 16

°C
---
---
Culture
Irish culture is as distinctive and famous as any others around the world, and for good reason. Based on a proud history of music, religion, travel, art, folklore and sport; the Irish people are all singing, all dancing. Facing all problems with a smile on their face and a song in their heart. They are also fiercely proud and patriotic, which is the reason why 50-80 million people worldwide claim Irish heritage, despite only 4.9 million people living in Ireland.
---
Best time to visit
Ireland is beautiful year-round, but the best time to visit would be during their Summer (June-August). The sun is out and you can expect lovely temperatures ranging from 15-20°C. During Summer is when the country comes out to bloom too! The greenery that Ireland is famous for is out in force.
---
Best places to visit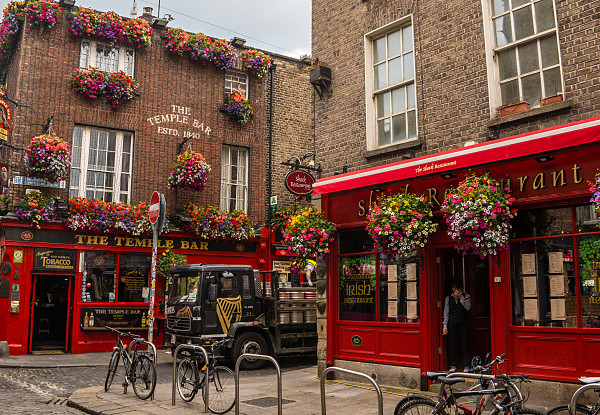 Dublin
Dublin is an amalgamation of everything that is good about Ireland. History & culture, scenery and shenanigans, the Capital has something to offer for everyone. For the history buffs there's Castles, Cathedrals and Trinity College. For culture chasers, there's live music on every corner. For party animals, you won't find a better atmosphere than in Temple Bar. A trip to Dublin isn't one you'll soon forget.
<p><span style="font-weight: 400;">If there&rsquo;s one thing Irish people are known for, it&rsquo;s their gift of the gab. Legend has it, this is due to a block of carboniferous limestone built into the Blarney Castle, better known as &ldquo;The Blarney Stone&rdquo;. Irish Folklore states that anyone that kisses the stone will be endowed with the gift of the gab, and it&rsquo;s definitely worked for the Irish. The second largest city in Ireland gained prominence during the age of the Norse (Viking) settlers, as the city is blessed with having one of the largest natural harbours in the world.</span></p>