Travel to Costa Rica
Costa Rica is nestled in Central America and boasts rugged rainforests, cruisy coastlines, gorgeous jungles and tropical beaches. A wholesome destination for the wild and adventurous at heart.
Key facts
Currency: Costa Rican Colón (CRC)
Population: 4.9 million
National dish: Gallo Pinto
Bottle of beer: 2,200 CRC
Official language: Spanish
Hello: Hola
Capital city: San José
Minimum wage: 8,400 CRC/hour
Annual temperatures: 6°C - 30°C
---
---
Culture
Often dubbed as the 'happiest country in the world', Costa Rica's people, also known as Ticos, are friendly and warm. Their strong sense of freedom and equality is heavily evident in their rich culture and various traditions.
---
Best time to visit
Dry season (December - April) is generally the most popular period to visit. With a low chance of rainfall, even in the rainforests, it's the perfect time to take advantage of the beautiful weather and exploring. Visibility, which is important for common Costa Rican activities such as snorkelling, trekking and wildlife spotting, is high also.
---
Best places to visit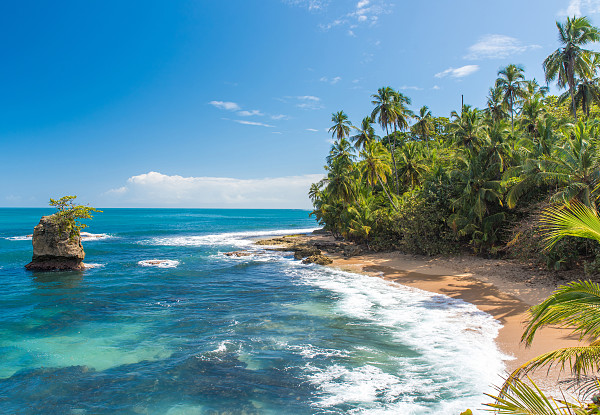 Limón
The ultimate lush paradise, Limón stretches along the Caribbean Coast and is thriving with white-sand beaches and mountains. Its pristine landscapes offer plenty of beauty and choice.
You'll enjoy the best of both worlds in Tamarindo, with Playa Tamarindo beach stretching along the Pacific framed with vibrant mountains in the setting. Bustling bars, restaurants and divine shops are conveniently within close proximity of each other.