Travel to South Korea
South Korea is a multifaceted nation with urbanscapes and countryside. You'll forever be in awe surrounded by the constant buzz, bustling energy and work-hard, play-hard mindset.
Key facts
Currency: South Korean Won (KRW)
Population: 51 million
National dish: Kimchi
Bottle of beer: 5,000 KRW
Offical language: Korean
Hello: Annyeong
Capital city: Seoul
Minimum wage: 8,350 KRW/hour
Annual temperatures: -7°C - 29°C
---
---
Culture
South Korean culture is strongly influenced by China and Japan. South Koreans are reserved, well-mannered and considered reliable and loyal to their friends and family. You'll also notice how hospitable and willing to help they are when you travel here.
---
Best time to visit
Visiting South Korea is best in the seasons of autumn and spring. April - June (spring) is the most popular time for travellers, as floral arrangements explode to life and pink cherry blossoms fringe the national parks and streets, especially in Gyeongju. September - November (autumn) is also a refreshing period, with pops of warm hues and pleasant temperatures. Festivals are also aplenty during this time.
---
Best places to visit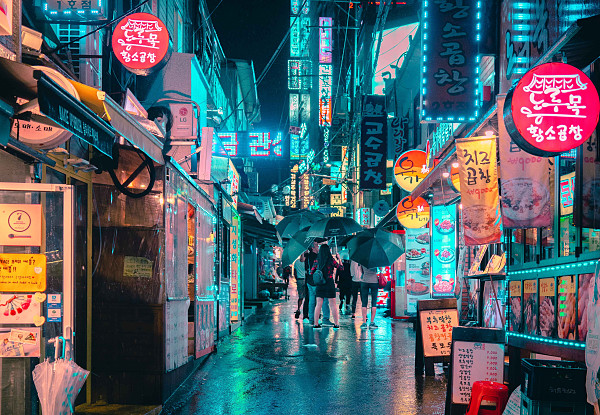 Seoul
The capital of South Korea is a whirlwind of experiences and activities. Constantly updated with the latest trends, Seoul is a trendy city full of contemporary bars and restaurants, mesmerising shopping malls, museums and galleries.
Where there is natural beauty, there's an outdoor adventure to complement it. Jeju-do is the perfect destination for the active traveller, as it boasts deep blue oceans, rugged mountains, volcanoes, off-the-beaten-path trails and coastlines. You'll never be short of activities here.