Travel to Namibia
It's impossible not to fall in love with the natural beauty of Namibia, from the desert realms and sand dunes to the river canyons and bold wildlife. Labelled as the perfect place to start for travellers with a desire to explore Africa.
Key facts
Currency: Namibian Dollar (NAD)
Population: 2.6 million
National dish: Pap
Bottle of beer: 24 NAD
Offical language: English
Hello: Hello
Capital city: Windhoek
Minimum wage: 9 NAD/hour
Annual temperatures: 6°C - 31°C
---
---
Culture
Namibia is extremely diverse, with at least 11 major ethnic groups residing in the nation. Family plays a particularly large role in Namibia, with many generations often living under the same roof. This nation is so renowned for its creativity and passion for crafts, dance, music and storytelling.
---
Best time to visit
Namibia is generally pleasant year-round. The dry season (June - October) indicates low rain-fall and wandering wildlife. For optimum wildlife spotting, travelling during this season is recommended.
---
Best places to visit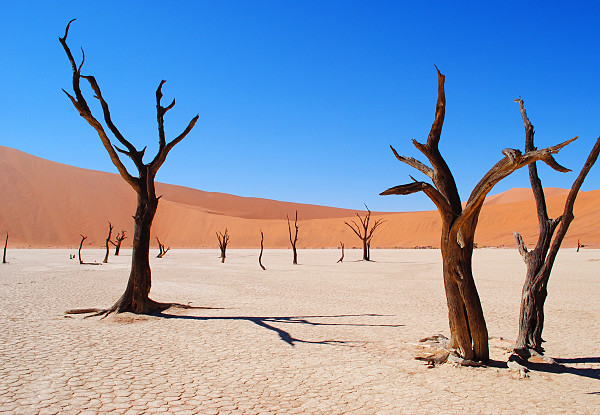 Sossusvlei
The vast salt and clay pan formed by the Tsauchab River makes this one of the greatest attractions in Namibia. As the sun rises in the morning, the towering red dunes that surround the pan change colour and create beautiful morning light.
You'll find Caprivi off the beaten track and full of unforgettable African bush experiences. From the scenery and tranquillity to the luxurious safari lodges with magnificent views of wide plains and wildlife, you'll cherish every moment in this place.