Travel to Nicarargua
The unsung hero of Central America, Nicaragua is characterised predominantly by its majesty of rich culture, history, and natural resources. If you're looking for an authentic, passionate Latin American experience, then look no further than Nicaragua - known for its special kind of loud.
Key facts
Currency:

Nicaraguan Cordoba (NIO)

Population: 6.6 million
National dish:

Gallo Pinto

Bottle of beer:

45 (NIO)

Offical language:

Spanish

Hello:

Hola!

Capital city:

Managua

Minimum wage:

58 NIO/hour

Annual temperatures:

20°C - 34

°C
---
---
Culture
The merging of cultures within Nicaragua gives way to a country overflowing with positive energy, unbridled creativity, and a vibrance like none other. The people of Nicaragua are widely regarded for their warmth and hospitality towards foreign travellers, and as is the case in much of Central America, the values of family and kinship lay at the heart of almost everything they do. Historical traditions are passed down through generations, often expressed in beautiful arts and crafts (ceramics, textiles, wood and leather), passionate religious celebrations, folk music and world-renowned poetry. Known as the land of poets, and regarded as the birthplace of the Spanish-American literary movement, Nicaragua is teeming with skilled artists ready to share this country's rich, vibrant history with visitors.
---
Best time to visit
Beautiful and warm all year round, it's always a great time to visit Nicaragua. With a climate that typically remains at 27°C across most of the country, it's a tropical lover's paradise! Nicaragua is most popular in its dry season (Nov-May), where travellers can bask in the sunshine, warm breezes and lay for hours on white sandy beaches. In what is known as the "green season" in Nicaragua (June-Oct), tropical rains bring lush foliage, cool clean breezes and out-of-this-world surf swells.
---
Best places to visit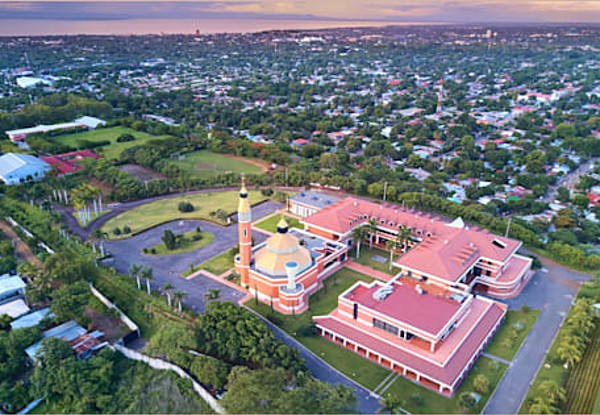 Managua
The capital city of Nicaragua, Managua, has made a name for itself being beloved by locals and foreigners alike. The city boasts impressive revolutionary landmarks, vibrant dining and nightlife, and a lovable down-to-earth charm that's sure to leave an impression. Find yourself free for the day? Spend some time at the statue of Sandimo on Loma de Tiscapa, a giant silhouette of national hero General Augusto Calderón Sandino. For lovers of neoclassical buildings and art, look no further than St. James' Cathedral, just one of the few structures remaining after a devastating earthquake in 1972. After being almost completely destroyed by this earthquake, extensive rebuild efforts were made to not only restore the city to its former state, but turn Managua into a must-see destination of every traveler's trip to Nicaragua.
<p><span style="font-weight: 400;">Locals will often tell you that in order to experience Nicaragua at its best, you must first understand its rich history. Leon, the epicenter of Nicaragua&rsquo;s revolution, still boasts street art and monuments from great revolutionaries and poets, many of which remain untouched to this day. At the top of everyone's list should be a visit to the Bas&iacute;lica de la Asunci&oacute;n, the largest cathedral in Central America, which happens to boast the best views of Leon&rsquo;s undulated landscape. As the hottest city in Nicaragua, it's only fair that Leon is home to many beautiful beaches, including Poneloya beach and Las Penita beach, where you can cool down after a long day of exploring. When the sun goes down, get to know the real Leon. Imagine delicious traditional food, loud live music and an out of this world Latin-American atmosphere that&rsquo;ll have you dancing the sweaty, sensual salsa all night long. </span></p>